NextGen Color Flake Polyaspartics
Color Flake Polyaspartic Coating
Our vinyl chip polyaspartic coating systems make it simple to get the perfect floor for your concrete, tile, VCT, or wood surface!
From your home's laundry, basement, garage, or patio to commercial kitchens, classrooms, and retail stores, Flexmar color flake polyaspartic coating systems give you the bright, clean look you want with the protection and durability you demand!
The Look of A Flexmar Color Flake Floor
Vibrant granite. Glossy terrazzo. With Flexmar polyaspartic coatings, you can choose the look that fits you and your décor. By varying the color combination of vinyl chips and chip size, our applicators can achieve just about any appearance.
A finished Flexmar color flake floor is bright, glossy, and has just a slight texture to it. And the floor will retain its appearance—without yellowing or fading due to age or exposure to fluorescent lighting or sunlight—for years to come, with no buffing, polishing, waxing, or re-sealing.
Flexmar Vinyl Chip Samples
1/4" shown — 1/16" also available
3 1/2 Hours*
From First Coat of Flexmar NextGen to Walk-on Return to Service
Flexmar Polyaspartic flooring is easy to install.  But that's not the most important feature.  The key is the time it doesn't take for installation.  This time lapse illustration shows just how quickly your facility will be back in service:  3 1/2 hours.  
For more information visit our Flexmar Installation Facts.
*2-coat system/500 sq ft. installation
From First Coat of Flexmar NextGen to Walk-on Return to Service*
2-Coat Installation
3 1/2 Hours Return to Service
3-Coat Installation
5 Hours Return to Service
4-Coat Installation
6 1/2 Hours Return to Service
*2-coat system/500 sq ft. installation
4X More Durable Than Epoxies



Color Won't Fade or Yellow
Learn more about Flexmar Polyaspartic floor coatings with these product animations

FLEXMAR® NextGen™ Polyaspartic Coatings Answer the Call for Fire Station Floor
Crabtree Volunteer Fire Department selected FLEXMAR® Coatings because a floor protected by FLEXMAR® polyaspartics would be durable enough to withstand wear, abrasion, and hot tire attack from fire trucks weighing upwards of 25 tons. They resist staining from automotive fluids, hydraulic fluid, and other harsh chemicals. And they will look like new for years to come without fading, yellowing, or discoloring.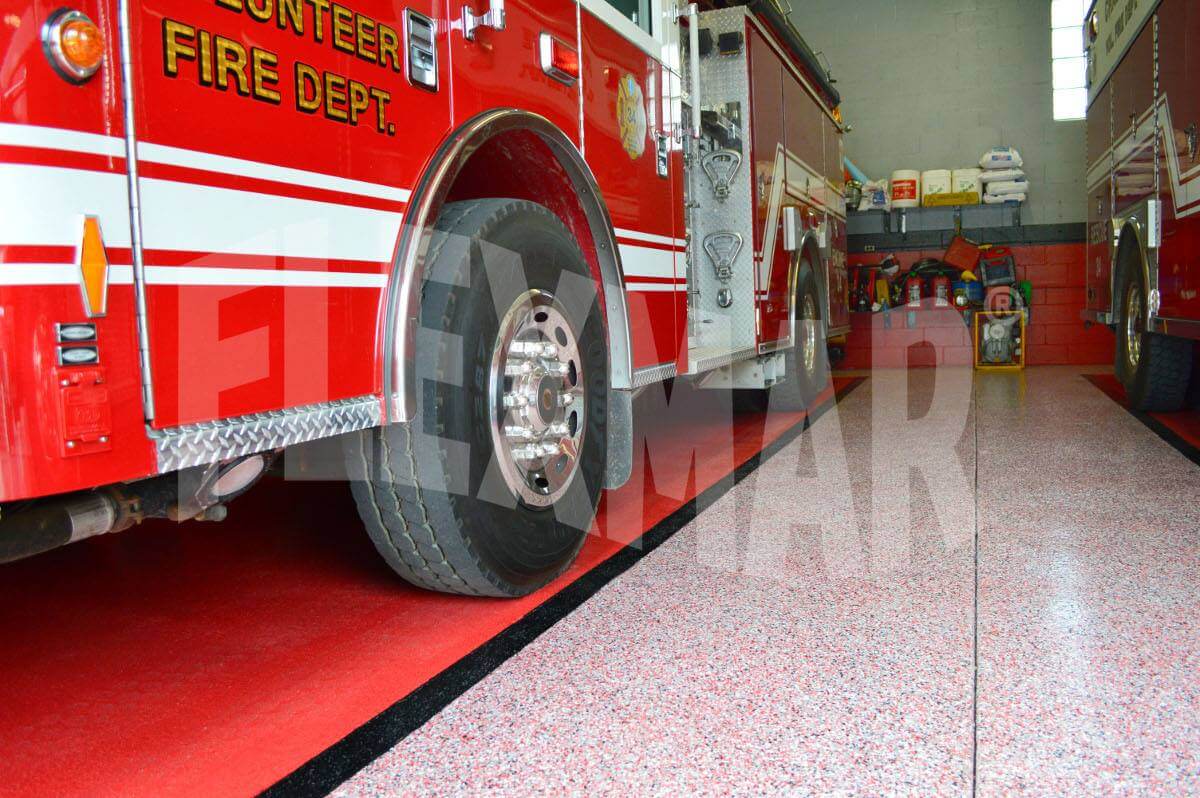 Ready for a Flexmar Floor?
Contact us today for more information about Flexmar products, available installation services through our applicator network, or if you need help choosing the right system for your floor.