FLEXMAR Coatings manufactures green (friendly low-to-zero-VOC) coatings for durable, seamless hard-surface flooring systems that can be used for both new construction and major renovations. These products include FLEXMAR solid color coatings, FLEXMAR clear polyaspartic sealers, and FLEXMAR Variegate® stain sealers.
FLEXMAR Coatings NextGen products contain a number of green-friendly materials into their all-polyaspartic seamless flooring systems.  Our FLEXMAR NextGen products and systems are 0 VOC, virtually no odor, and eligible to be used in LEED-certified projects. These products used in specified systems may contribute to LEED eligible points.
As part of our mission to provide the highest-quality products for your projects, FLEXMAR Coatings maintains a membership with the U.S. Green Building Council.
Construction Waste Material
FLEXMAR NextGen containers and packaging are recyclable metal, HDPE, and paper. FLEXMAR NextGen materials, once cross-linked, can easily be removed from mixing vessels – allowing them and product containers to be recycled. This may contribute to LEED MR Credit 2.1 & 2.2. Construction Waste Management
Low-Emitting Materials 
FLEXMAR NextGen products are all 0 VOC, virtually no odor and may contribute to LEED IEQ Credit 4.2: Low emitting Materials –Paints and Coatings.
US Green Building Council Letter for LEED Credits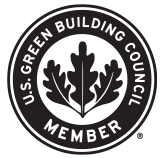 FLEXMAR Coatings is a member of the U.S. Green Building Council, and our coatings and sealers can contribute toward satisfying credits in the Indoor Environmental Quality and Materials and Resources categories under the LEED program.
Ready for a FLEXMAR Floor?
Contact us today for more information about FLEXMAR products, available installation services through our applicator network, or if you need help choosing the right system for your floor.