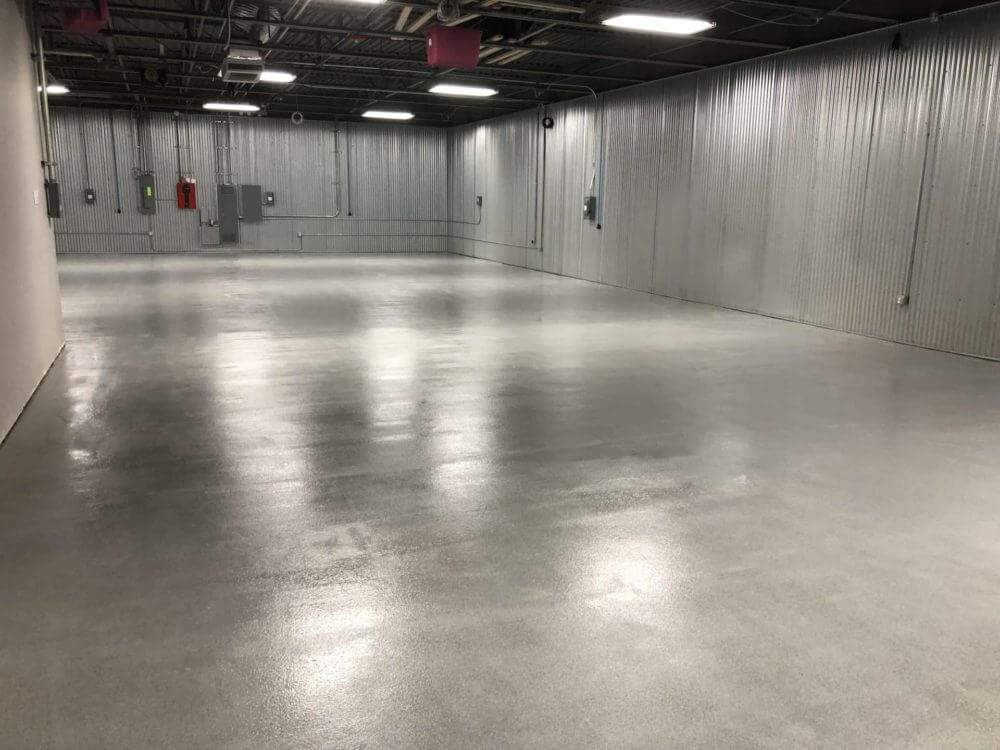 FLEXMAR NextGen Coating Systems
Simple By Design
FLEXMAR NextGen Coating Systems      
The performance you need in 2 products.  At FLEXMAR, we only use two-component all-polyaspartic coating systems.  Our first coat is a NextGen Self-prime factory pigmented color primer followed by 1 or 2 coats of NextGen Clear coat-"sealer or finish" coat.  Note sealer or finish are also used in our industry to describe the top layer of clear.  Also, metallic pigments can be added to  NextGen Clear coat prior to installation at the job site.  We've engineered our products to be the most user-friendly in the industry.  Only FLEXMAR NextGen polyaspartics offer all of these features and benefits in one complete package. 
0-VOC Coatings
All FLEXMAR NextGen polyaspartic coatings are 0 VOC, exceeding compliance requirements in the U.S. and Canada.
Virtually No Odor
Our high-solids NextGen coatings have virtually no odor. They can be applied with minimal disruption and discomfort—even while facilities are in use!
Longer Working Open Time
FLEXMAR NextGen polyaspartics feature a working time of up to 25 minutes(similar to epoxies), even in most adverse weather conditions, so keeping a wet edge, back rolling, and broadcasting chips are no challenge!
Rapid Recoat and Return-to-Service
All of our NextGen coatings can be re-coated in about 1 hour and the floor surface returned to service in about 1 hour after the final coat, maximizing efficiency for the applicator and minimizing down-time for the end user!
Self-Coving Coating
With FLEXMAR, there's no need for special coatings or materials just to create coving. Our NextGen polyaspartic coatings and sealers all feature excellent vertical hang, so they can be used as an integral cove base.
1:1 Mix Ratio
Our two-component NextGen polyaspartic coatings systems all feature a simple 1:1 mix ratio by volume, eliminating complicated measurements and guesswork for applicators.
Superior Adhesion to Concrete
FLEXMAR NextGen polyaspartics feature excellent adhesion to properly prepared concrete; polymer modified cementitious toppings and overlayments; epoxies; deglazed ceramic tile; VCT tile and certain wood and plastics.
Factory-Pigmented Coatings
Our coatings come already pigmented from the factory. Don't worry about adding packets of pigment paste or matching color from batch to batch! In fact, FLEXMAR pre-pigmented NextGen coatings have a higher density of pigment for superior hide and filling over concrete!
Minimal Maintenance
A floor protected with FLEXMAR NextGen polyaspartic coatings will look glossy and like-new with only a periodic dry sweep and wet mop with mild detergent as needed. That's it. There's no regular, labor-intensive, costly maintenance . . . no stripping, no waxing, polishing, burnishing, or chemical deep cleaning that is endemic to ceramic or porcelain tile, VCT or sheet vinyl flooring, carpeting, and polished concrete.
Ready for a FLEXMAR Floor?
Contact us today for more information about FLEXMAR products, available installation services through our applicator network, or if you need help choosing the right system for your floor.